English : Press Room
primaire
2e cycle
3e cycle
secondaire
1e cycle
2e cycle
---
"The journalists lair" of the Press Room can help you become a journalist while investigating some of the most important global issues. You can also use it as an educational tool to learn more about the media, the news, and issues relating to international development.
Become an informed, engaged and active citizen! Carry out your own journalistic activities and contribute to setting the ball in motion both at home and around the world!
Produced in collaboration with the Government of Canada through the Canadian International Development Agency (CIDA)
---
A picture's worth a thousand words
Photo and illustration guide for international journalism.
| | |
| --- | --- |
| Graphics, whether they are pictures, graphs or cartoons, both tell AND sell a story. Sometimes, words are not enough to account for everything that happened! | |
A photo may give your readers a better idea of what your article is all about. Often, the supporting images are what makes a difference.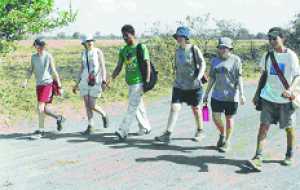 A few tips for good pics
A good picture must catch your readers interest. Make sure the pictures you have selected are relevant to the topic of your article and that they contribute to its understanding.
The greatest pictures are often those that show people's feelings. Everybody will want to read your article to know further about what happened.
Complement your picture with a caption: a sentence below the picture that will give additional details. Well written captions help better understand the picture and the article.
Do not forget to indicate the source of the picture, so as to let your readers know who took it. The source may be written in parenthesis to differentiate it from the rest of the caption: (photo by April Wells).
The golden rule is to know how to frame the subject or the scene that you wish to shoot.
Example 1: Framing a subject

Example 2: Framing an action

2- Conventional pictures
The handshake
These pictures show people receiving diplomas, cutting ribbons, or giving cheques. The subjects are always shown shaking hands and smiling at the photographer. Use your imagination… and try something less predictable.
The carrying out
Have you seen those pictures showing a row of people against the wall? Very often, the caption is nothing more than a long list of names!
To avoid such a classic shot, try taking pictures of people in action. If someone wins an award, illustrate your article with a picture showing WHY they are rewarded (what did they do?) rather that a picture of the person receiving the award.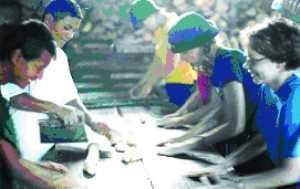 3- Digital pictures
You may take pictures with the help of a digital camera or even scan your standard photos. In both cases, the picture can thus be edited: you may change its size and its brightness among other things.
4- Functions of a graphic
A graphic may be used for different purposes :
To inform should be the prime function of an image. It can be or represent the subject or bring in a new element to the current event.
A map, a schema, or a graph, also allow to synthesise and summarise the content of the article. It also allows to keeps the reader from getting lost in a sea of numbers, data and names.
The picture may be descriptive; showing the details of a new car, the contours of an object, the elements of a scene, the setting of an event, etc. A picture must catch the readers interest and allow them to imagine in a much more significant way what is being talked about. In this sense, the readers will have better chances of remembering your article if it has been accompanied by a significant image.
The picture may constitute a proof. It can become the warranty that what is exposed in the article is true. For example: a reporter writes that the inhabitants of a poor village have been granted with the help they needed to dig a water well not too far from their homes. The picture may show a smiling child of the village, filling in his bucket with safe water to drink.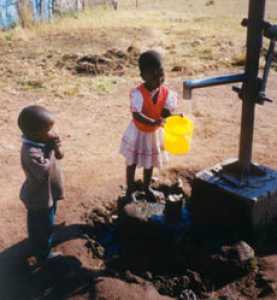 A picture may be representative. For example :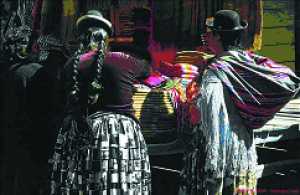 A photo showing a Bolivian woman wearing weaved clothes of lively colours may demonstrate that a
traditional country is still present nowadays in Bolivia.
The graphic can also be suggestive and express an abstract idea. For example:
The dove and the colour white symbolize peace; a heart, love; a green tree, life, etc.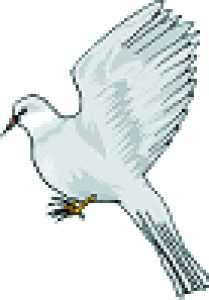 Graphics may entertain the reader without necessarily contributing with additional information. They may take the form of a character, a comic strip, a drawing, a cartoon, or a humoristic picture (ex: photo montage). They offer a little rest from the reading and are well appreciated by readers (see Cartoon section
below).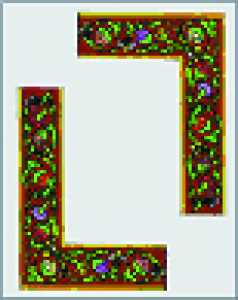 Graphics may, at times, have as their sole purpose to decorate a page, to bring the text to life by cutting through the grey masses of text!
5- Cartoons
The cartoon is a drawing that illustrates a situation with humour. They very often target public personalities. A good cartoonist must possess several qualities, including originality, an analytical spirit, and a good sense of observation. A good cartoon has to be funny and surprise their readers. For example, several elements of a situation may be put together in one same cartoon. Play on words and irony are also often used.
Cartoons may not contain text. If you must add in text to the cartoon to put the reader in context, it is preferable not to exceed one sentence. The purpose of a cartoon is to illustrate your point of view with humour and ethical taste.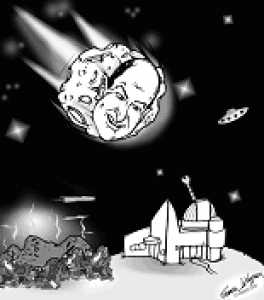 Some of the information found on this page has been taken from : www.reseau-crem.qc.ca/
---
Code of conduct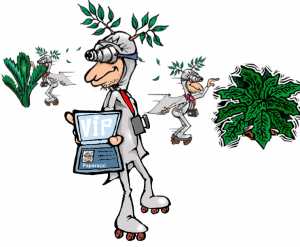 Code of Conduct
Here is a series of information useful on law, ethical and intellectual property (author's rights). It is very important to examine these realities if you wish to publish your articles publicly.
1- Ethical
2- Slander and the art of not being pursued in court
3- Author's rights
1-Ethical
Here's why journalists must take their work seriously and recognise the influence they can exert on their community. Many journalists have their own code of ethics, a group of principles that guide them through their work. Their ethical sense helps them in determining what constitutes an accurate representation of the situation and the people involved in it. This is helping them in establishing norms for their own professional behaviour in order to be objective and credible.
Most of the news rooms have formal rules which journalists follow.
For example:
- Some newspapers and broadcasters won't allow their reporters to accept gifts, meals or free services from people they meet while doing their reports, to avoid being influenced.
2-Slander and the art of not being pursued in the courts
According to the European Union, slander is :
"The speaking of base and defamatory words tending to prejudice another in his reputation, office, trade, business, or means of livelihood."
Like newspapers and magazines, Internet is a very useful search tool. The key to avoid law suits from slandering is to have evidence which supports your statements.
-The truth:
A reporter tries not to use "second-hand" information. He cannot write an article based on third party information. The source has to be as close as possible to the event. The situation might arise where a reporter have to find another source to confirm what others have told him. If a source refuses to comment, he can state it in his article. This refusal is a message itself.
-The consent of the source:
During an interview, the comments given by the person who is being interviewed are "official". Everything they say can be used in the article. If the person being interviewed wants to remain anonymous, they can ask the reporter to leave his/her name out of the article. For example, if the information concerned the government's recent budget cuts and the person being interviewed was a minister, the article could be read as following: "A confidential source of the government said…"
If the source states that they don't mind if the reporter mentions them in his article, the reporter can consider it as permission. It is important to write down the date, place and time of the interview. A reporter has to collect information from both sides in order to balance each other out. Finally, it would be good to have a serious source on the subject matter, which would definitely add credibility to the article.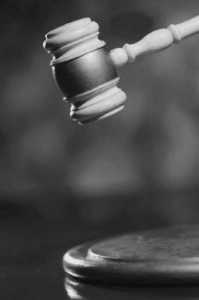 -Impartiality:
An opinion can be used in a news article as long as it comes from a source. A journalist can express his opinion through an editorial or a review, but never in any another type of article. However, it is recommended to compare with other people's opinion in order to add a substance to the article and expose the pros and the cons of a certain event. That's what we call impartiality.
For example:
A journalist interviewing a protester on a politician's decision to cut back 25% in contributions to students can quote the person who is calling the Prime minister a "liar". In that case, the journalist's intention is not tarnishing the reputation of a politician, but reporting the militant's opinion. Therefore, it is important to attribute an opinion to the right person.
-Right to access to information:
If the information concerns the public, like a trial or a written record of a government's meeting, all the journalists have the right to know this information and publish it.
A copyright is an exclusive right of exploitation which belongs solely to the author and his work. Works protected by the copyright include books, movies, songs, essays, articles, letters, poems, or any other kind of original work. The royalties are generally granted when work was published or when it received the attention of the media.
Examples:
The book Tintin au Congo written by Hergé or the song La complainte du phoque en Alaska from "Beau Dommage".
When writing an article, journalists like students must identify the reference, which means they must mention the name of the author of the works used. Keep in mind that work authors want their work recognised as theirs, not someone else's.
To reference an author, the journalist must include the following facts:
- Name of the author, composer, interpreter or any person or organization which the work belongs to;
- Title of the work;
- Publishing house;
- Year of creation or publication (if available);
- Number of page quoted (If it is a written document);
- The author's right symbol (©) is not compulsory.
For example:
"To fight racism, it is not only a question of accepting the other in its difference, but also of agreeing ourselves to be differently seen by the other..."
Fannie Le Vasseur, "La vie en couleurs!", Journal In-Terre-Actif, vol. 8, no2 (février 2004), p.2.
When writing a review article, a journalist quotes only the part which he needs for his article. The royalties are also used to protect your work when they are published to prevent someone else from copying your work. However, that cannot prevent somebody from using your ideas to do their work. Several people can write on the same subject by using the same sources or by using completely different sources.
-Internet and copyrights
If the journalists and junior journalists use images, sounds, extracts from videos or information coming from a Web site, they must reference this one as well and credit the author for his work. It is very easy to copy these resources from the Internet without respecting the intellectual property of it. We can also ask for the author's permission.
After having discovered an image that you would like to use, you must pay attention to the small characters which accompany it in order to be informed of the identity of its owner. That enables you to acquire the permission from the right person.
The referencing format for Internet sources is identical as referencing authors in hard copy. Usually, the name of work is a bond hypertext towards this one and/or the name of the author is a bond towards his electronic address.
We should not believe everything we find surfing on the Internet. Anyone can say anything: everyone could have their own Web site with truth or fiction on it! It is suggested that you use sources from governmental sites or organizations recognized for their credibility.
Source: Comité de Solidarité de Trois-Rivières
---
How to conduct an interview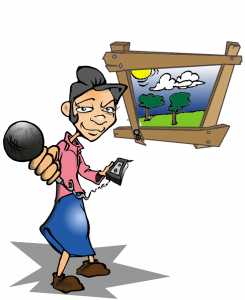 This activity worksheet will provide you with information regarding the preparation and the conduction of an interview. Here are a few steps to follow as well as some good advice to carry out this important journalistic activity.

When writing an article, journalists will always try to find a person to interview. This way, they acquire information directly from the people involved. Haven't you noticed how experienced journalists make their interviews seem more like a friendly conversation? It all comes so naturally! Behind what appears to be such an easy task, there is a skillfully mastered technique.
The interviewer researches the topic to be discussed by consulting people with special knowledge on the subject matter, and all kinds of related documents. After this first step, the interviewer can determine the kind of information (s)he would like to receive from the interviewee. (S)he will then make a list of specific questions.
The interviewee's role is to corroborate the results of your research for information and supply you with additional facts. Conducting an interview also allows you to insert someone's personal opinion in your article. To have the interviewee formulate personal opinions, you must imagine the process of an interview as a conversation that follows a precise objective. Interviewing is not a simple exchange with another person; something must come out of it.

Preparing the interview
Would you dare walk on stage during a school concert without knowing the tune or the lyrics to the song you are singing? Most probably not! The same applies to the interview : never start an interview without due preparation.
1. Get informed first!
· Research on the Internet or at the library
· Skim through the newspaper for relevant articles
· Get informed on the historical background of the subject matter, its latest developments and related prospects
· Would it be relevant to find out more on the development of this issue in other cities, provinces, or cities?
2. Find a central/main theme
· Who must you interview?
· Who can give us information on the facts and on stats?
· Who will help us get familiar with the human aspect of the issue?
· Write down the questions you would like to ask
3. Make an appointment
Call the person you would like to interview. Ask them is if they would grant you an interview in person. Meeting them at work, at their home, or at any other place is preferable because it allows you to notice the person's facial expressions and gestures. If it is impossible to have a face to face meeting with the person, interview them on the phone. As your last resort, you may interview people via e-mail, but always remember that spoken and written language have their variants. Quoting from a written interview may seem less natural or less spontaneous. Besides, by sending your list of questions you are conceding your initial control of the interview : the interviewee may decide which questions to answer and which to ignore.
4. How to ask the right questions
As an interviewer, you always aim at stimulating an honest response from your interlocutor. For a few tips, see The Art of Questioning; a Detailed Guide
5. Tape-recording the interview
To remember as much information as possible, you may take notes on the side or better, tape-record or videotape the interview. Recording the interview allows you to take less notes and concentrate on what the person is saying. Your quick notes will be of much help later on, to track excerpts, quotes, or exact details.

6. Note-taking
You will be conducting an interview? You may certainly want to take notes to make sure you are not leaving out any important details.
Taking notes the T way will help you keep track : draw a T on a sheet of paper. (Use several sheets if need be!) Above the T : write down the topic of the interview, the name of the person, the location and the date of the interview. On the left side : write down the themes addressed by the person during the interview. On the right side : write down the answers to your questions.

When the person you are interviewing jumps back to a topic they have already addressed, at all times you may easily find where to add in their comments on your note sheet thanks to the T.

· Concentrate on the interviewee and on what they are saying;

· Write down important details as quickly as you can;

· Use abbreviations, personal codes and symbols to write down the interviewee's remarks; transcribe your notes shortly after the interview.
Wrapping up the interview
Remember to thank your interviewee and ask them if you may give them a call should you have forgotten a question. You may also offer to send them a copy of the article, but it is not mandatory.
Have you conducted an interesting interview? If you would like us to publish it on our Website, visit the Editor-in-chief's Desk for more details!
---
How to organize a press conference
Organizing a press conference is very simple!
All you need is good preparation and structured planning.
This activity worksheet will give you tips, ideas, examples, as well as the steps to follow to organize a press conference.
Steps to follow :
· Before the press conference :
- Choose a location and plan the material you will need
- Select journalists to invite
- Write a press release – Example of a press release
- Send your press release to your selected journalists
- Prepare a press kit containing : a description of your project, photos, a list of your team members, and contact information should your guests have any questions
- Prepare and write down the conference notes for the lecturer
- Contact the journalists the day before the conference and confirm their attendance.
During the conference :
- Set up of the room where the conference is being held
- Welcoming and registration of the journalists and special guests
- Opening words by the presenter, who will introduce the lecturer and the guest speakers to the audience
- Main lecture
- Question period: journalists are invited by the presenter to ask questions
- Interviews
- Verification of the attendance list
· After the conference
- Send a conference release to the journalists who did not attend
- Press review: skim through newspapers for articles or mentions of your press conference
You are now ready to set up a press conference!
If you are holding a press conference, let us know! We may send one of our representatives on location! Or share your experience with others by publishing the proceedings of your activity in our press-room. Send it to the Editor-in-chief's Desk!
---
How to start a newspaper
Starting your own student newspaper
The following activity worksheet will provide you with steps to follow, tips, and ideas on how to start a student newspaper.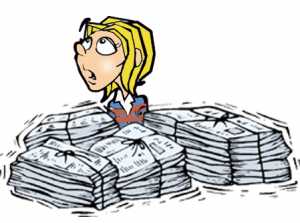 Find a sponsor and a printer
Producing and running a newspaper may result costly. That is why you must be clear on a financial source for your project. It may be a sponsor: i.e. an organization, an administration or a company that would give you money in exchange for advertisement space in your newspaper. School administrations often contribute to the production of school papers. You may also consider selling your newspaper… but chances are you will end up with a smaller amount of readers.
Then, the newspaper must be printed at an affordable cost. You may want to try having a printer sponsor your newspaper! Compare market prices after roughly estimating the number of copies that you want to distribute at school. Don't forget that schools usually have their own printing/copy center: ask around you and see what possibilities are available to you!
2- Assign the different tasks
A newspaper results from team work and multiple collaborations. One person may be assigned to several functions. Ideally you should have a room assigned for the newspaper team and it would become the location of your newspaper operations.
· The editor in chief is the big boss of the newspaper. They schedule the deadlines of each issue and make sure the newspaper is ready and distributed on time.. They coordinate the team's work to make sure it is well done.
· The editor chooses and approves article topics, receives the final texts, checks and corrects them before they are sent to the publisher. There is usually one editor per newspaper section (business, features, sports, editorial page, etc.) Editors may also be journalists.
· The journalist or reporter selects an interesting topic to research on, gathers and writes the news and conducts interviews.
· The graphic artist is in charge of creating an appealing newspapers creating comic strips, illustrations, cartoons, graphs, etc. At times, they may take photographs to document the articles.
· The designer receives all articles and graphics and puts the newspaper together with the help of a Word or a Layout software (ex : PageMaker).
· The publisher's task is to print the newspaper, put it together and sees to its distribution.
· Readers should have the opportunity to write in the newspaper they read. Invite your readers to send you their contributions, informing them of the deadlines for each issue and how to contact the newspaper team.
3- Newspaper layout
All existing newspapers may serve as a model. There is not best way of presenting a newspaper: choose the one that is best suited for your needs. What is important to keep in mind, however, is that you must preserve the uniformity of your presentation and stick to a defined order in the contents of your newspaper for the sake of your readers! Also, keep an eye on the size of your fonts: your texts should be readable!

You can also get informed on computer software for newspaper layout.
Source (in French):
http://www.bandesportive.com/reporters/entree.html
Other related websites (in English):
http://www.highschooljournalism.org/
Send some articles published in your school newspaper to the Réseau through the Editor-in-chief's desk. Not only are there are prizes to win, but you may also be read by thousands of visitors to our website!
---
Writing a good article
You would like to write a newspaper article… but how do you get started ?
Follow these 10 steps to write a good article:
1- Choose a topic
Before getting started on a newspaper article, you must find yourself a theme. Any issue may be interesting as long as it has an impact on people's lives and people recognize it as such.
When looking for a topic, carefully observe what is going on around you. Can you identify recurring topics of conversation among people? Recurring debates? What stirs or arouses the crowds? Get informed by reading the newspaper, magazines, discussion boards, and websites. Watch television and listen to the radio. It is all part of a preliminary study of the information available to you and its different sources. It is important to be alert and receptive to the happenings, interesting events, and debates going on in your community and in the rest of the world.
Ask yourself the five W's and the H:

· What is going on?

· Who is involved?

· When does/did it happen?

· Where does/did it happen?

· Why?

· How does/did it happen?
These questions will help you find a theme relevant to your surroundings. They will also help you specify your topic and give you clues on where to start your research and your article writing.
2. Specify your topic
A topic can be very broad. Because an article is not a general text or an encyclopedia, you must focus on one aspect of a topic. This way, you can be more specific. When making your choice, you can specify the region referred to, the issue (what catches attention or arises questions?), and even the moment in time.

Example :
« Water consumption » : It is a general heading that can encompass several different topics. An article idea that would come out of this heading may be something like: «Can the over consumption of water in Canada lead us to the privatization of this natural resource?» To keep focused on your idea while writing your article, try to find a wording; a short sentence or a question that will embrace your idea. Answer to this wording throughout the elaboration of your text.
3. Decide on the type of article
There are several ways of composing a newspaper article. First and foremost, what is your purpose: to quickly communicate the information, to deeply analyze a particular topic, or to formulate your opinion on a theme of personal interest?

Here are different types of possible articles:
· The news story :
The news story is an article on current events. It delivers facts, quotes, and details on the issue. It aims at communicating the latest information and is most likely to lose its relevancy in a short period of time. Your first sentence sets the lead for the rest of the story, it must then state the most salient fact and wow your readers.
· The background article :
A background article will explore an issue in detail. The article tries to explain why and how a tendency or an idea developed. This kind of article does not necessarily refer to current events but it can be inspired by them.
· The opinion article (also called column or editorial)
Editorials are similar to a persuasive essay. The journalist has an opinion on a particular issue and means to convince the reader of something. You must well research your topic and its historical context and follow its progression. Present the position you are arguing for as if you were a lawyer pleading a case before a jury. You want to convince the members of the jury of the position you are holding, you must then present as much evidence as you can!
· The critic :
Very similar to the column or the editorial. Formulate your opinion on a particular topic, which in this case would be a film, a CD, a book, or any kind of artistic production. Back up your comments with examples from the work you are discussing.
4. Do your research
You have already gotten started on this step in order to choose your topic, but to properly address your topic you must go further in your quest for information. Research can take many forms. Here are some suggestions of information sources to be consulted in the following order:

1- Reference texts (e.g.: encyclopedia or dictionary) :
to better understand and define the basic concepts you will be using (ex : what is water consumption ?).

2- General texts (e.g.: books on a large topic) :
to have an overview of the issue to be discussed (ex : water consumption across the world or throughout history).

3- Specific texts (e.g.: books on a more specific topic) :
to get specific and particular information on your chosen topic. You can refer to these texts in your article.

4- Periodicals (e.g.: magazine articles, newspaper articles), websites, television feature stories, etc.

* You will then discover different ways of addressing or perceiving the topic you have chosen.
(e.g. : «Privatizing water is not a good alternative to reduce water consumption in Canada»)

* You can also interview people who are relevant to the topic of your choice. Attend press conferences, meetings, or symposiums.
5. Insert some visual support
This is when you should look for photographs, graphs, and other kinds of illustrations. Pictures allow readers to see your topic enacted!
If you have access to a camera, carry it with you to take a few shots of the people and the places you mention in your article.
6. Ask for feedback
Do not hesitate to ask a teacher or a parent for advice or even a local journalist. They will most likely be pleased to be of any help and can provide you with other ideas.
7. Write your article
With the information you have gathered, you must now write a first draft keeping in mind that you should be answering to your initial wording (see step 2: specified topic). It is quite an assignment! You may have to refer back to your sources of information to collect additional facts or to finalize your research.

You still fear writer's block ?
8. Revise your text and make it more attractive
Once you are done with your article, put it aside for a day. Read it then once more, with a rested spirit. Is it clear and coherent? Can you cut off some parts of your longer sentences? Does everything that you wrote pertain to your topic? Did you answer all of the W questions and the How?
9. Have your article revised by someone else
Ask a friend, a teacher, or a family member to read your article. Usually, it is not easy to notice our own mistakes or to realize that a sentence makes little sense.
10. Choose a catchy title
To entitle an article is almost a work of art! Wait until you have finished writing your article before you come up with a title and don't forget that it will be the first piece of information the reader will receive. A catchy title will attract the readers' curiosity and encourage them to read the article. A few words often have greater impact than a long sentence. Reading several titles will help you get the exercise.